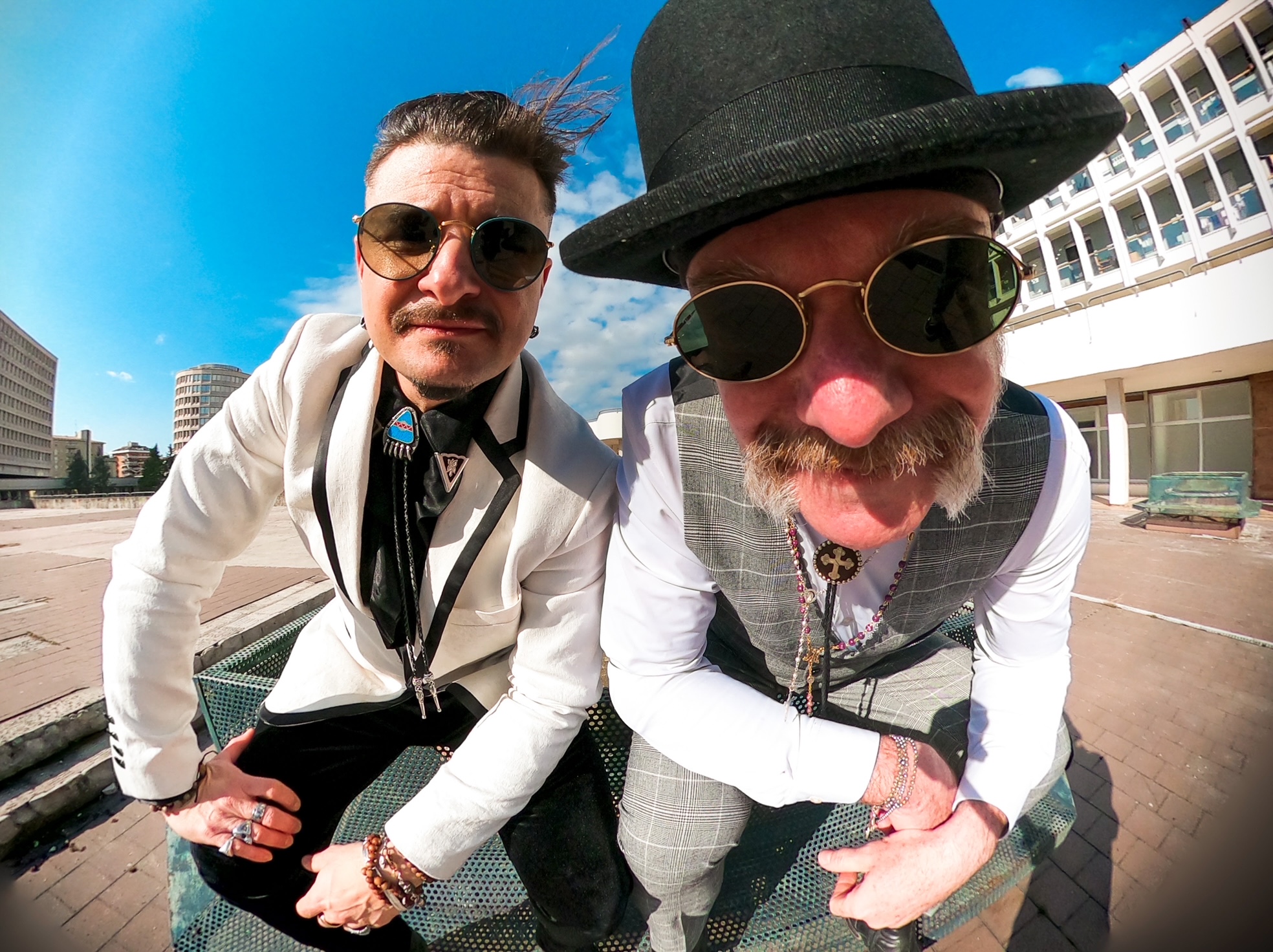 Superdownhome are a duo born in June 2016.
The two decide to collaborate and form a project linked to the traditions of rural blues, but also projected towards personal spaces contaminated by rock'n'roll, country, folk and punk.
​
​Seasick Steve and Scott H. Biram are the artists they draw inspiration from. Inspired by Seasick Steve they decide to use tools like Cigar Boxes and Diddley Bows. From Scott H. Biram, they adopt the minimal approach and the mix between soft and wild mood.
Between April and October 2017 they release an eponymous EP and a record entitled "Twenty-Four Days".
"Twenty-Four Days" also sees the contribution of Popa Chubby who agrees to collaborate on two tracks. The album is released physically for Slang Records and digitally for Warner Italia.
​
​In February 2018 the duo opens six of the eight concerts of the Italian Popa Chubby tour. Popa Chubby himself also participates in the video for "Stop Breaking Down Blues", a song by Robert Johnson.
​
​In May 2019 they released "Get My Demons Straight", with the production of Popa Chubby, two feat. by Charlie Musselwhite on harmonica and Popa Chubby himself on electric guitar on two tracks while the mastering is by Brian Lucey (The Black Keys - Arctic Monkey - Royal Blood)
​
​In June 2019 they open all the concerts of Fantastic Negrito Italian tour.
​
​In November 2019 they are the support band for Popa Chubby's German tour and in January 2020 they are in the United States for the IBC (International Blues Challenge) and for one of the most renowned CBG festivals, the Samantha Fish Cigar Box Guitar Festival in New Orleans.
​
​ In June 2020, "Blues Case Scenario" is released by Warner, and in July 2020
​
​"Homework" is released, a single that sees the collaboration with Dennis Greaves and Mark Feltham of Nine Below Zero.
​
​In November 2020 - in full pandemic - they manage to get a contract from DixieFrog Records in Paris, one of the most important European blues labels. No Balls, No Blues Chips was released in April 2021 and Blues Pyromaniacs, the new record produced by Anders Osborne, in September 2022.
​
​
​
​

LINKS:
​FB: www.facebook.com/superdownhome/
​INSTAGRAM: www.instagram.com/superdownhome/
​YOUTUBE CHANNEL: www.youtube.com/channel/UCFDxY58480b8fdQP9H71PvQ
​
​Or click the icons below.
​You will enter our channels.


NEXT GIGS
06/23 fri "DAL MISSISSIPPI AL PO BLUES FESTIVAL " FEAT.NINE BELOW ZERO (Fiorenzuola D'Arda)
​06/30 fri "OPENING ACT FOR DEEP PURPLE" PORDENONE BLUES FESTIVAL
​
​07/08 sat "RIVER BLUES PARK" (Nave)
​07/21 fri "VERUCCHIO MUSIC FESTIVAL " (Rimini)
​07/22 sat "SAGRA DEL CAMPO SPORTIVO DI BORGO SOTTO" (Montichiari)
​
​08/10 thur "SAN SEVERINO BLUES FESTIVAL" FEAT. NINE BELOW ZERO (San Severino)
​
​09/02 sat "COLLEBEATO BLUES FESTIVAL" FEAT. NINE BELOW ZERO (Collebeato)
​09/09 sat "BAR FUNIVIA" (Trento)
​09/16 sat VETTORI- FILIPPIN WEDDING ❤
​
​10/27 fri "RUDY ROTTA MEMORIAL" (Verona)